Page Suggestions: How Do I Pray, left behind, model prayers, Prayer for Salvation, Salvation, sermons, tribulation period
Can a person be saved more than once
---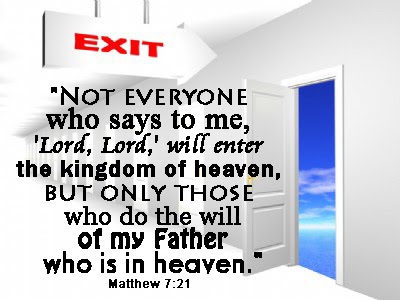 Not every one that saith unto me, Lord, Lord, shall enter into the kingdom of heaven; but he that doeth the will of my Father which is in heaven. Matthew 7:21
YES!
There are many people who have not truly repented and come to Jesus. They are playing the good little Christian act. Salvation is a transformation of the mind and spirit. It is a HEART CHANGE. We all make mistakes and can easily fall back into sin but we must have a repentive heart towards God.
My dear children, I write this to you so that you will not sin. But if anybody does sin, we have one who speaks to the Father in our defense -- Jesus Christ, the Righteous One. 1 John 2:1 (NIV)
My little children, these things write I unto you, that ye sin not. And if any man sin, we have an advocate with the Father, Jesus Christ the righteous1 John 2 (KJV) verse 1
If we confess our sins, he is faithful and just and will forgive us our sins and purify us from all unrighteousness. 1 John 1:9 (NIV)
If we confess our sins, he is faithful and just to forgive us [our] sins, and to cleanse us from all unrighteousness.1 John 1 (KJV) verse 9
Most people like to believe the 'once saved, always saved' idea but the Bible gives us examples of where this is not the case at all. People can make a concerted decision to depart from the Lord. The Bible states repeatedly all sorts of reasons that people will not enter the Kingdom of Heaven. We must remain in right relationship with the Lord. Grace is not a license to sin.
What then? shall we sin, because we are not under the law, but under grace? God forbid. Romans 6:15
Read "Lord!, Lord!"
For ye know how that afterward, when he would have inherited the blessing, he was rejected: for he found no place of repentance, though he sought it carefully with tears. Hebrews 12:17
Jesus will never turn away a repentive heart.
To become a mature Christian requires studying the Word of God and keeping a close and personal relationship with Jesus.
---